As I inch nearer to wrapping up our master bedroom, I started thinking about the side tables we have next to the bed.  On the boyfriend's side he has the farmhouse side table that I built quite some time ago and on my side we have an old end table that was past down from family.  I like both of them, but really want to move the farmhouse side table downstairs next to the front door.  I think it would fit perfectly there.  The old end table I plan to refinish and really like the style, but it  just doesn't offer enough storage.  I like to keep a few things next to the bed and right now I am constantly knocking things off if I reach for anything in the dark.  So I'd like to find a new home for that too, which would then leave both sides of the bed empty.
I've been on the lookout for side tables at the various thrift shops we have up here, but haven't any luck yet.  If I can't find anything ready made, I am always open to building something.  Although, I'm not ready to build anything just yet I thought it couldn't hurt to do some searching and see what others have already created.
I love this knock-off of a restoration hardware side table.  I think it would look good next to our new headboard.  She includes plans to build it on her site too.
Here's another restoration hardware nightstand that I like too.  It might actually be a little too rustic.  Maybe with different hardware and finish it could work.
This old filing cabinet made into a table is super cool.  Won't work in my bedroom, but would love to find a place for it somewhere else in the house.  I see these occasionally at the thrift stores and might just pick one up the next time I spot one.
I didn't find a diy for this particular table, but I like the metal wrap and wonder if it would be difficult to replicate the look.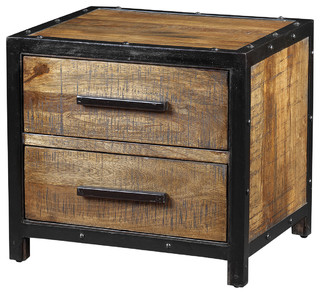 And, last but not least I found this one here. I think this one would work well with our bed and I love the clean, simple lines. This site also includes easy to follow plans to build it – always a plus!
After all my searching I figured out I definitely seem drawn to the cabinet style, probably because I know I want more storage space or maybe because I just really love cabinets.  Who knows.  I still have plenty of time to put more thought into this particular design choice (it's not like we have no nightstands at the moment), so I will continue to keep all options open.